AMR Membership Program
Help for Ambulance Expenses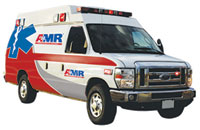 A single trip in an ambulance can result in substantial costs for patients, even those with health insurance. The AMR Membership Program can help reduce or eliminate out-of-packet expenses for ambulance services.
AMR Membership Program benefits apply to medically necessary ambulance service provided by AMR paramedics or EMTs in our Mississippi and Louisiana service areas. Benefits cover transports for emergencies such heart attacks and life-threatening injuries. Membership also covers insurance-approved, non-emergency transports to approved healthcare facilities for patients who require ambulance transport. Wheelchair van and RN-staffed services are not included.
Program Benefits
Covers most out-of-pocket expenses
Covers all fulltime residents of your household
Annual membership
Leave the billing to us
Applicants who are accepted into the program receive a membership card that contains a membership number and plan expiration date.
Get peace of mind with the AMR Membership Program. To learn more call us today and we'll begin the application process. Or download and complete the membership application and send it along with your membership fee to AMR.
Call today!
228.896.6066
AMR Membership Program Application
The AMR Membership Benefit Program is an agreement between the member and AMR and is not an insurance policy or intended to serve as a substitute for insurance.